We at Landscape Solutions pride ourselves on being innovators. We were the first landscaping company in the central Indiana area to fully embrace our responsibility to preserving and protecting our environment. Propane powered mowers were scarce when we first introduced the technology to our fleet. They are now far more common — that was a precedent we were glad to set! Even our production vehicles and fleet vehicles run on alternative fuels which produce less environmentally harmful emissions.
At Landscape Solutions, we are trendsetters and proud of it. But in 2014, we realized our website didn't accurately portray our image as trendsetters. Certainly, it was functional — our current clients and potential customers could find the information they were looking for and through our blog, we shared useful information with readers about environmentally conscious efforts they could make.
But our image as a green company wasn't coming through. We set out to change that.
Our old website, though functional, didn't effectively communicate our message.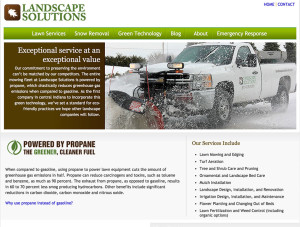 The designers of our new website were tasked with creating a website that was visually appealing, user friendly, and easily accessible from any device, from smart phone to tablet to desktop computer. Additionally, it was important that our mission — the thing that really sets us apart — come across clearly.
Now, when you visit our website, you are immediately met with an image that represents our commitment and what we do. We are a landscape company — we design, manicure, and maintain landscapes in neighborhoods and places of business.
That is what we do.
We are well aware of our responsibility, however, to also preserve and protect the environment — the soil, the water, the air.
That is who we are.
Right from our new homepage, visitors are invited to read more about the steps we have taken and the commitment we have made to the environment. We hope you enjoy our new website!