Green Initiatives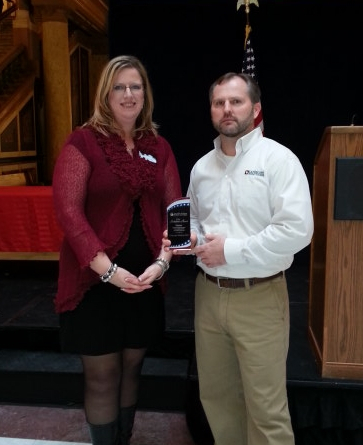 As we began to look to spring, Landscape Solutions LLC was proud to receive a 2014 Greater Indiana Stakeholder Award from the Greater Indiana Clean Cities Coalition for our deployment of propane powered landscape equipment. Other Stakeholder Awards winners included former Lt. Governor Becky Skillman, Mayor Greg Ballard, and State Representative Randy Frye. We celebrated this honor by expanding our propane fleet even more, adding several additional propane powered mowers and fleet vehicles.
Our goal is to be an industry leader in environmental stewardship, employing cutting edge "green" technology whenever possible. By utilizing cleaner fuels, we help to reduce harmful exhaust emissions, reduce noise pollution, decrease our dependence on foreign oil, and increase employee safety. Our business is not only beautifying the Indianapolis landscape of today, but helping to ensure the beauty of tomorrow through sustainable business practices.
Landscape Solutions LLC wrapped up the landscape season with value-added tree plantings throughout the city, at no cost to our customers; part of our "Greener in the Green Industry" tree initiative.
Looking Ahead
The big news in landscape maintenance continues to be tree damage wrought by the Emerald Ash Borer (EAB). EAB damage has now been noted in some white fringetrees in Ohio, so there is a possibility that this destructive pest may have adapted to another host. Additional testing is currently underway to determine the severity of this new threat, as well as possible treatment options. We will continue to do our part in offering the latest treatment options available. When ash, or any other trees, need to be removed, we are happy to offer professional tree removal services and assist in the selection and planting of replacement trees.
Turning our attention back to snow, November 16th brought the first measurable snowfall of the 2014-2015 winter season. While long-term forecasts are not particularly reliable, we have our equipment, supplies, and personnel ready provide industry leading snow and ice removal service. Stay warm, and have a wonderful holiday season!